4 Stage Reverse Osmosis 50 GPD Water Filter System







PHARMACEUTICAL POLLUTION INFORMATION FROM THE U.S. EPA

PHARMACEUTICAL POLLUTION INFORMATION FROM THE WATER QUALITY ASSOCIATION

While specific product performance standards have not yet been developed for pharmaceuticals, many point-of-use technologies have proven effective for some of these emerging contaminants. Nano-filtration and reverse osmosis systems removed drugs tested by the Colorado School of Mines at full-scale facilities in Arizona and California. Activated carbon, distillation, ozonation, and advanced oxidization have likewise shown promise in removing many of these contaminants. Individual manufacturers can also test products for specific pharmaceuticals if they choose. (SOURCE: WQA)

CLICK ON PHOTO ABOVE TO SEE COMPONENTS

Everything you require for a successful installation. Comes standard with 50 GPD membrane, 5 micron sediment filter, 10 micron carbon block, in line GAC post filter, long reach chrome faucet, 4 gallon plastic tank. John Guest fittings for easy, do-it-yourself installation.

FREQUENTLY ASKED QUESTIONS ABOUT THE "FILMTEC™ MEMBRANE"

FREQUENTLY ASKED QUESTIONS ABOUT THE "MATRIKX™ CTO/2 PRE-CARBON FILTER"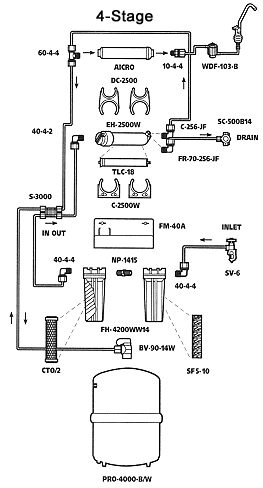 Features
FULLY ASSEMBLED WITH TOP QUALITY COMPONENTS
TOP-OF-THE-LINE JOHN GUEST FITTINGS
WHITE ALUMINUM BRACKETS
LONG REACH CHROME FAUCET, LEAD-FREE (MEETS STATE OF CALIFORNIA REQUIREMENTS)
50 GALLON PER DAY CAPACITY
HIGH REJECTION MEMBRANES UP TO 98% EFFICIENT
INCLUDES SPUN PRE-FILTER, CARBON PRE AND POST FILTERS AND MEMBRANE
FLOWMATIC "NSF" LISTED FILTER HOUSINGS
WRENCH FOR EASY SUMP REMOVAL
COMPREHENSIVE INSTALLATION INSTRUCTIONS
FEED WATER REQUIREMENTS

maximum TDS, 2,000 ppm
maximum iron, 0.3 ppm
maximum hardness, 12 gpg
maximum manganese, 0.05 ppm
pressure 30-100 (min/max)

LIMITED WARRANTEE
Systems are warranteed to be free from defects in materials and workmanship as received. Installers are responsible to inspect each system prior to installation and report any defects at that time, prior to installation.


Recommended Filter Cartridge Changes
Filmtec Membrane-average 2 year life
MATRIKX™ CTO/2 PRE-CARBON FILTER-average once per year
Spun polypropylene sediment filter- at least twice per year
Aicro POST-CARBON FILTER-average once per year


ALL REPLACEMENT CARTRIDGES ARE AVAILABLE BELOW

THIS ITEM WILL BE SHIPPED VIA GROUND SHIPPING

ADDITIONAL CHARGES WILL APPLY IF THIS ITEM IS SHIPPED "NEXT DAY AIR" OR "SECOND DAY AIR" OR "FEDEX 3 DAY SAVER" OR "PRIORITY MAIL", WE WILL CALL YOU WITH ACTUAL SHIPPING CHARGES

PLEASE CALL FOR ACTUAL SHIPPING CHARGES TO HAWAII AND ALASKA AS ADDITIONAL CHARGES WILL APPLY THERE AS WELL


Call Toll Free 1-877-760-3773

E-mail H2oFilters.Com









MATRIKX® is a licensed trademark of KX Technologies LLC, MATRIKX+CTO® is a licensed trademark of KX Technologies LLC , PLEKX® is a licensed trademark of KX Technologies LLC, CTO® is a licensed trademark of KX Technologies LLC, Pb1® is a licensed trademark of KX Technologies LLC, CR1® is a licensed trademark of KX Technologies LLC,

® is a licensed trademark of KX Technologies LLC,



"There's no tragedy in life like the death of a child. Things never get back to the way they were."
Dwight D. Eisenhower

"Love your child as if there is no tomorrow."
Dan Van Wie



Do-It-Yourself Water Filtration Products from Doulton Ceramic Filters, Rainshower Shower Filters, Kx Carbon Block Filters, WaterWise, Genesis Distiller, British Berkefeld, Berkey, Filmtec Reverse Osmosis Membranes, Katadyn, and other fine water filters. We have "No Plumber Required" Countertop Water filters, Under Counter water filters, and Gravity feed water filters all for the do it yourselfer



Note: Berkey Products not yet available for shipment to California and Iowa